About traffic access to Yufuin Tsukahara Kogen.
We'll be waiting for your visit sincerely.
1.6km, about 2 minutes from Yufudake Smart IC
Exit Yufudake Smart IC and proceed west to Oita Expressway. Turn left and enter Prefectural Road 616.
About 11km (15 mins) from the Yufuin Interchange on the Oita Expressway
Exit onto the Yufuin Interchange and proceed directly straight towards the light. Once you enter Yufuin-cho, turn right at the gas station. To your immediate right is the Kame-no-i bus terminal. Take a left at this light. Get onto local prefectural road 617 (towards Ajimumachi and the African Safari)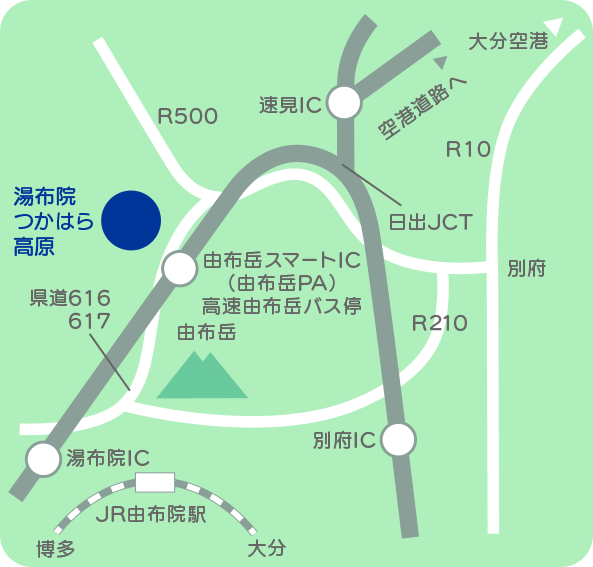 About 17km (25 mins) from the Beppu Interchange on the Oita Expressway
Turn right at the Beppu Interchange and get on national route 500 towards Ajimu. Turn left at the African Safari and head towards Yufuin.
About 13.5km (20 mins) from the Hayami Interchange on the Usa Beppu Expressway
Exit the Hayami Interchange and take a left. Follow the road signs towards the African Safari road and get onto national route 500. Spot the sign to Yufuin Onsen in front of the African Safari and turn left.
JR Kyushu, Kyudai Main Line
Disembark at JR Yufuin Station. 8.5km from there (about 15km by taxi)
 Accessing neighboring sites (by car)