Spring quality:Acidic / Iron-containing (II, III) -Aluminum-Sulfate spring
Benefits:Soaking in these waters can help treat ailments like chronic skin inflammation, cuts, burns, neuralgia, diabetes, chronic digestive ailments, and chronic gynecological ailments.
Features:Acidity level: 2nd nationwide,
Aluminum ion content: 2nd nationwide,
Iron ion content: 1st nationwide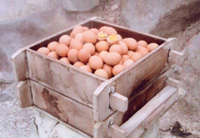 【Hot springs eggs】
「Garan Volcanically-Cooked Eggs」6 pieces 500JPY。Craters at Mount Garan are used to steam eggs for 20 hours and imbue them with the natural mineral properties of the springs. We also sell mineral waters from Tsukahara Onsen for mail order.
2L 3,000JPY(without tax)
Please call us for more information.